CanSat is a small can-size module which can be dropped from a drone and can complete several tasks including maintaining communications, measuring velocity and orientation, and determining atmospheric temperature and pressure.
Adam Malagowski, Team Lead AY 2018/19 (MEng Aeronautical Engineering 2019)
Shreeyam Kacker, Team Lead AY 2019/20 (MEng Aeronautical Engineering 2020)
Vishnu R Menon, Communications Engineer (MEng Aeronautical Engineering 2020)
Daniele Bella, Electronics & Software Engineer (MEng Aeronautical Engineering 2022)
Palash Matoo, Structural Engineer (MEng Aeronautical Engineering 2022)
Joao Matias, Structural and Systems Engineer (MEng Aeronautical Engineering 2022)
Henry Webb, Electronics Engineer (MEng Aeronautical Engineering 2022)
Our project
CanSat is a small can-size module developed by a group from the Imperial College Rocketry team. It can be dropped from a drone at about 100 metres altitude and, once dropped it can complete several tasks which include maintaining communications with ground control station, measuring its velocity and orientation, and determining the atmospheric temperature and pressure. The Imperial CanSat team achieved 3rd place at the UK CanSat competition in 2019 and is now is looking to build a more complex payload module for a sounding rocket to participate at the biggest worldwide student rocketry competition Spaceport America in New Mexico, US in 2020.
The CanSat group met at Imperial College Rocketry Team meetings which is a group of nearly 70 students from the Imperial Department of Aeronautics. Imperial College Rocketry focuses on developing hybrid-powered rockets (i.e. mixed liquid and solid propellant) with innovative approaches to thrust control and launch video recording. As part of this, we decided to develop a module that could be a starting point for more complex electronic systems for the future rocket mission. We quickly realised that we needed to prototype and experiment with our ideas in order to achieve a satisfying solution. Our project meetings quickly moved to the Imperial College Advanced Hackspace. The ability to work on the ideas together at the workshop really brought the team together and made it possible to prepare the components on time for the UK CanSat competition.
Support from Hackspace and the wider Imperial community
The Hackspace has supported the team in the prototyping process by providing access to facilities, technical guidance and training. We worked with electronics and laser cutters and always received support from staff to help use the facilities. Another crucial element of the Hackspace support was the provision of pizza for our weekly meetings, which encouraged team members to come and contribute to the project. Surprisingly (or not), it really helped to keep the team together when the times were getting tough during exams.
We found it really inspiring to see all the ideas become reality at the Hackspace. Just by watching others and seeking advice from fellow Hackspace users we learnt how to use different tools. We also had an opportunity to share our knowledge with another CanSat team from the College who were using the Hackspace facilities.
The Hackspace is certainly a place where students from various departments and faculties can go beyond the micro-reality of their peer group and discover different perspectives of making and, most importantly, learning from others.
If we had to describe the Hackspace in three words they would be Collaboration, Inspiration and Support.
We have access to some academic advisors from the Department of Aeronautics through Imperial College London Rocketry. Our main point of contact and support is Dr Aaron Knoll, who has offered support and organised weekly follow-up meetings to provide feedback and technical guidance on rocket propulsion systems, electronics, and project planning in general. We are also in touch with other academics from the Department to discuss certain solutions of particular sub-system designs.
Successes and learning
One of our major successes was the development of a strong and capable team where students can contribute their skills and knowledge whilst, at the same time, learn new things from each other. We're also proud that we've developed a way of working that encourages prototyping and accepts failures as a means of building better solutions. And lastly participating at the UK CanSat Competition 2019 and coming third was a big success for us.
We've experienced a few set-backs along the way which we've definitely converted into learning. We probably devoted too little time to testing and improving the software, and hence were unable to have all systems fully functional for the CanSat competition. We accidentally ran out of battery power 30 minutes before the launch due to over-testing. More generally our lack of experience in wiring electronic components brought us multiple difficulties during final assembly and testing phases, including almost burning our final CanSat by wiring a wrong component into the circuit!
Our advice
Test your ideas and components as early as you can, because things will (almost) never work the way you wanted them to!
The future
Imperial Rocketry is preparing to participate in Spaceport America Cup in New Mexico, US in June 2020. We are currently seeking financial support to cover the costs of manufacturing and shipping of our rocket and to cover the travel expenses of team members.
More from Hackspace
Discover what's going on at the Hackspace.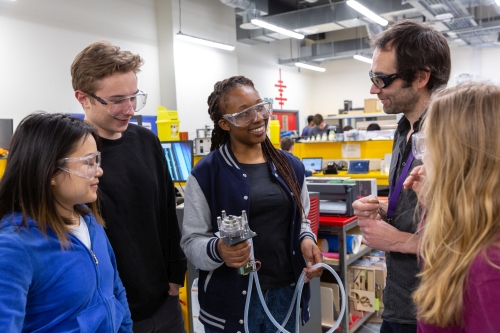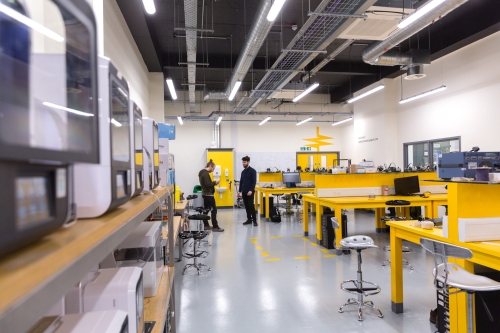 News
Catch up on the latest goings-on at Hackspace.
Imperial has been working with North Paddington Youth Club to build electric scooters alongside the College's engineers.
The 2022 Sculpture Challenge will provide students the opportunity to collaborate and bring their vision to reality, resulting in the winning sculpture having a permanent presence at the White City Campus.
Imperial College Advanced Hackspace launches Hackstarter to provide £500 prototype development grants.