ComfortBreak's innovative wearable will catalyse millions of women into health tech entrepreneurship to uphold human rights and spur economic growth.
Hansa Shree, Cofounder (Product Development) (BSc Biology with a Year in Industry/Research 2020)
Donald Idiake, Cofounder (Business Development) (MBA 2020)
Our project
ComfortBreak aims to help the 2 million teenage brides in Democratic Congo who undergo multiple forced pregnancies and developed incontinence as a result. The severe lack of healthcare infrastructure in the wake of civil war has forced these girls to use leaves and rags to deal with the wetness of incontinence during pregnancy, and menstruation in between pregnancies. This leads to daily shame, discomfort and infection risk – burdening the already overwhelmed healthcare resources.
With the help of the Imperial College Advanced Hackspace we have developed a frugally innovative reusable hygiene wearable that we can teach the girls to build and sell themselves. This will help them to earn an income, become more independent, lifting them out of the human rights violations they are facing.
Our product is four times more affordable, so will simultaneously reduce the healthcare burden while reviving the local economy through female entrepreneurship. Our self-sustaining business model will leverage local strategic partnerships.
Support from Hackspace and the wider Imperial community
Our team first met at the Imperial Enterprise Lab's Launch Weekend Challenge, when we spent an entire weekend brainstorming an entrepreneurial idea. We emerged as finalists, and later decided to take part in the MSF Doctors Without Borders Makeathon challenge, which was organised by Imperial Friends of MSF in collaboration with Imperial College Advanced Hackspace, Imperial Enterprise Lab, Imperial School of Medicine and MSF Sweden Innovations Unit.
The Makeathon challenge provided the inspiration for ComfortBreak. It was a three month programme which proposed three problems for which the participating teams had to build solutions. Incontinence was one of the problems and we used the Hackspace to build our prototype for ComfortBreak and were placed third in the challenge. We have continued to use the Hackspace to develop further prototypes and it has been a valuable place to explore different avenues of relevant research. All of our current funding (£250) has come through the Hackspace.
Successes and learning
For us one of the major successes has been gaining in-depth insight into the problem we are seeking to solve through the support from MSF Doctors Without Borders. It was also fantastic to raise £250 from the Hackspace, which has really helped get us off the ground.
We've learnt that funding runs out quickly and we need further funding to further develop our concept. We've also realised that we have a skills gap in our team as none of us have extensive experience working with fabrics. In some ways it would have been better to have this expertise within the team earlier on.
Our advice
Just go for it, don't overthink it! It's a great experience and you learn by doing, which can mean accepting failures. And trying again!
The future
Our prototype iterations are guided by an NHS doctor, women and recruited material science expertise. We have extensively explored markets in various Sub-Saharan countries through interviewing local women and organisations, including MSF Doctors Without Borders and a UK charity with a value chain in Malawi. Through the Advanced Hackspace, ComfortBreak was invited to meet the First Lady of Democratic Congo, who are interested strategic partners. We hope to launch small product trials in Malawi in partnership with the UK charity by June 2020.
We are currently completing the MVP at the Advanced Hackspace and raising funds additional to those won during Makeathon.
We are also looking for grants and other sources of funding to help fund user testing, manufacturing, travelling to and setting up in-country, as well as advertising and promoting ComfortBreak.
More from Hackspace
Discover what's going on at the Hackspace.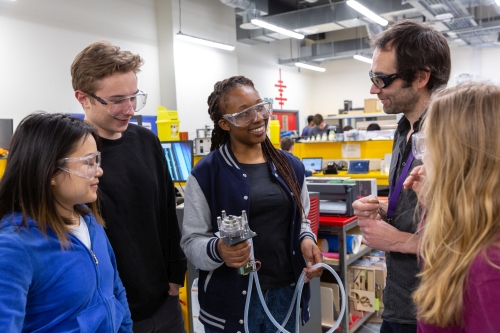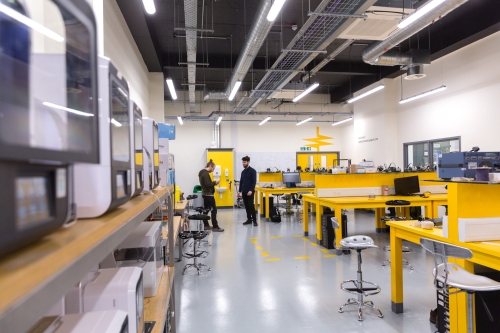 News
Catch up on the latest goings-on at Hackspace.
Imperial has been working with North Paddington Youth Club to build electric scooters alongside the College's engineers.
The 2022 Sculpture Challenge will provide students the opportunity to collaborate and bring their vision to reality, resulting in the winning sculpture having a permanent presence at the White City Campus.
Imperial College Advanced Hackspace launches Hackstarter to provide £500 prototype development grants.