The nanoDIPs project is a targeted drug delivery system which was entered into the annual BIOMOD competition.
Georg Wachter, Team Lead (MRes Systems and Synthetic Biology 2019)
Alberto Scarampi, Wet Lab Lead (BSc Biotechnology 2019)
Alisdair Stevenson, Dry Lab Lead (MEng with a Year in Industry, Bioengineering and Biomedical Engineering 2021)
Kevin Vela, Wet Lab (BSc Biotechnology 2019)
Sonia Shyfrin, Wet Lab
Edward Praun, Design (Aalborg University BS Manufacturing Engineering 2019)
Hansa Shree, Wet Lab (BSc Biology with a Year in Industry/Research 2020)
Shabz Khan, Dry Lab
Our project
Our project is a targeted drug delivery system which we entered into the annual BIOMOD competition. This is a bimolecular design competition founded at the Wyss Institute (Harvard) and hosted at UCSF, where teams of undergraduates build something innovative and functional from the molecules of life such as DNA, RNA and proteins. It was the first time students from Imperial College London entered and our team were second overall.
For our entry we created a drug delivery system that targets metastatic cancer cells. These are cancer cells that break away from the original tumour, travel through the blood or lymph system, and form a new tumour in other organs or tissues of the body. Through improving the targeting of the chemotherapy drug, we hope to increase the chances that only the metatastic cancer cells are killed, meaning that higher, more effective doses can be used with less side effects.
Our solution packages the drug payload within fluid filled structures (lipid vesicles) that have a biosensor embedded in their membrane. The biosensor responds to the presence of cancer-associated enzymes in the immediate vicinity of the tumour and then selectively releases the drug to kill cancer cells. This allows chemotherapy drugs to be delivered in very high concentrations close to the cancer cells but in low concentrations across the rest of the body, causing less side effects at higher dosages. The biosensor could ultimately be customised for a variety of protein biomarkers to address targeted delivery in other diseases.
The team
We met at a hackathon hosted by the Imperial Synthetic Biology society in cooperation with Imperial College Advanced Hackspace and funded by the Enterprise Lab. This involved a pitching round for students' ideas and a competition which awarded grants to two projects. The two projects which won were ourselves and Multus Media, another project that works out of the Hackspace. That was the start of our fund-raising and in total we managed to raise more than £20,000 from Hackspace, the Biodesign CDT, the Bioengineering team and the Dean of Natural Sciences.
Support from Hackspace and the wider Imperial community
Without the Hackspace we wouldn't have got our project off the ground. Hackspace helped us financially but also provided the space to innovate and fantastic mentors.
All the science behind our project has happened at Hackspace and, even when we didn't have the equipment we needed, such as a plate reader, it was very easy to get it installed here. The community at Hackspace is amazing. Every time we've wanted to make something we've come here and there is always help at hand. It's very interdisciplinary and there are opportunities to learn all kinds of skills which you wouldn't on your course.  It's also very social and everyone shares expertise.
If we had to use three words to describe Hackspace they would be community, space and innovation.
The community at Hackspace is amazing. Every time we've wanted to make something we've come here and there is always help at hand. It's very interdisciplinary and there are opportunities to learn all kinds of skills which you wouldn't on your course.  It's also very social and everyone shares expertise.
Advisors
We are lucky enough to have Oscar Ces as a mentor who is Professor of Chemistry at Imperial College London and a specialist in the field. We also have David Miller, who is a Hack Fellow at Hackspace – he is a trained biologist and incredibly helpful with the day to day guidance and running of our experiments. A relatively new mentor for us is Dr Burns who works with DNA origami, which is the technology we use to fold DNA for our molecular machines that provide targeted drug delivery.
Successes and learning
For us raising the money to enter and take part in the competition was a huge success. Coming second overall in the competition was incredibly rewarding, especially as it is usually dominated by teams from the US and Asia. Lastly building the team was also an important success. Our team comes from four different faculties and two different universities – Imperial College London and  Aalborg University – so we have a diverse background but everyone has the same mentality and we're all very passionate about the project.
Although we now count them as successes, we did have some difficulties in all the above areas! There were initial problems with raising money which meant that some of our team did drop out and we also had some difficulties with our first experiments. However once we knew we had the financial backing we got the right team in place and everything started to work.
Advice to aspiring makers, hackers, inventors or entrepreneurs
Once you have a good idea the first thing you want to do is sort out a good team. With the right team everything will fall into place, but you also need to think about the money quite early on.
We're all here because we like science not because we like money but you do need to deal with that aspect of the project in order to start working.
Read the article about the team's success in San Francisco here. 
More from Hackspace
Discover what's going on at the Hackspace.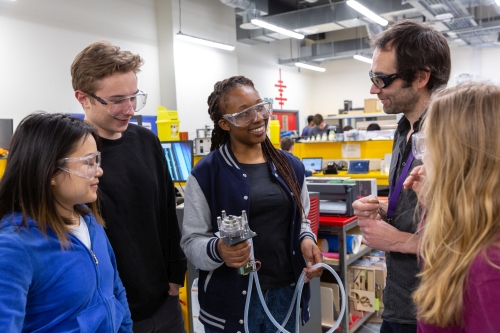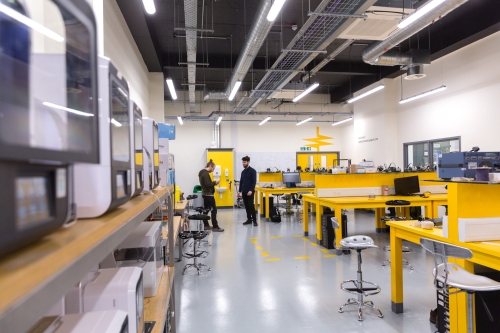 News
Catch up on the latest goings-on at Hackspace.
Imperial has been working with North Paddington Youth Club to build electric scooters alongside the College's engineers.
The 2022 Sculpture Challenge will provide students the opportunity to collaborate and bring their vision to reality, resulting in the winning sculpture having a permanent presence at the White City Campus.
Imperial College Advanced Hackspace launches Hackstarter to provide £500 prototype development grants.